Sunday, April 30, 2006
Even Gay Cowboys Dig Disco
Back in the glory days of disco circa 1970s it became vogue for musicians to get a slow song (for example, a ballad) or an instrumental (for example, a classical piece by Tchaikovsky or Beethoven) and put a disco beat under. They called their release "the disco version". Thus there was "Star Wars Theme (disco version)" by Meco Menardo, "Close Encounters of the Third Kind (disco version)" by Meco Menardo, and "Superman Theme (disco version)" by, you guessed it right, Meco Menardo. (Thank god it took George Lucas years to start work on Star Wars Episode 1; by that time Meco had retired. Today he works as a commodities broker in South Florida.)

Jump-cut to last night: Saturday night in Bed and the whole place is jumping. Suddenly DJ Toi plays this new dance track. I'm bopping to the beat when the guitar part comes in. It takes me a few beats to recognize the piece. Oh. My. God. It's the main theme from the movie Brokeback Mountain—the disco version! I don't think many in the crowd recognized the tune; I looked around for anyone else who had the same "I know this tune!" smile like the one plastered on my face, but there was none. It was weird hearing the plaintive, even mournful guitar plucking of Gustavo Santaolalla playing over an insistent, aggressive house beat. I had images of gay cowboys doing a square dance to a disco beat—how bizarre.

Friday, April 28, 2006
TGIF
A month into my new workplace and I'm feeling a whole lot better than a few weeks before. My adjustment has been pretty okay. It's good that I am seen as a funny guy—humor is a great shield. However, I'm sure that the people here are also giving me a lot of leeway since I'm relatively new. In fact, I wouldn't mind it if I get into trouble at work already—no one has a perfect track record—so that I can get that over with. Hahaha, talk about wishing the other shoe to drop already. Okay, okay, I'll be more optimistic and positive.

* * * * *

My mom and aunt left yesterday for Bohol. They'll be there until May 17. So now it's just me, my younger sister and brother who are at home. Unfortunately I cannot just invite people over for an orgy, as tempting as it sounds. Okay, so maybe not an orgy—it'll just be hand-jobs. Etching. And my brother always stays up late watching cable shows, so I can't just bring out my Almodovar films (pa-cultured daw, o! hahaha!) and those Bel-Ami videos I borrowed (nagmalinis daw, o! hahaha!) and watch to my heart's—and groin's—content.

So why haven't I moved out of the house? Simple economics. Why spend for rent and utilities when I can have them for free? Mwhahahaha. Actually, my mom is the type who will not kick her children out of the house if they don't want—or they have no reason—to leave. In fact her thinking is, the more people in the house, the better. She likes having a lively, busy house. She doesn't like to see her house empty during the day for security reasons; for her, an occupied house is a deterrent against robbers.

Still, with my mom away, I can just disappear any time to anywhere I want to with anyone or just with myself. And with the long weekend staring at me, I'm sorely tempted to just disappear off the face of this earth and go to… heaven.

Hihihihi.

Thursday, April 27, 2006
'Wag Po, Koya, 'wag Po!
So Dave is the official photographer for the PBB Teens publicity shoot. And speaking of those teens, here are the boiz:
Gerald is, I believe, the one people find most handsome. I too would agree about his looks. But his attitude turned me off; he
knows
he's good-looking.
* * * * *
Aldred, on the other hand, is blessed with dimples too deep to fathom. He's got the humble disposition of someone coming from a not-so-privileged background. If he knows he's cute, he doesn't wear this knowledge on his sleeve. And he loves to cook! Still, it really boils down to his killer dimples.
* * * * *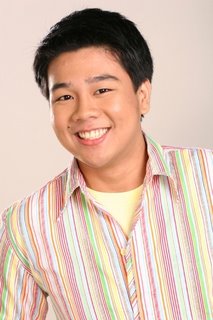 Speaking of dimples, the comedian of the group is the younger brother of Dimples Romana. Bam is cute because he's funny—and because he uses humor to mask his angst. He also looks like Vandolph after a visit to Vikki Belo.
* * * * *
And speaking of Vandolph, Matt looks like a dead-ringer for Boy2 Quizon. Put him and Bam together and you have "Home Along Da Riles"!
* * * * *
The Atenean Mikee is also cute in a nerdy way. Actually his glasses don't flatter him at all; you should see him without glasses. It's also endearing the way his mouth goes all crooked when he smiles. He reminds me of my cuter classmates in school. Haaay!
* * * * *
Fred, the cadet officer from San Agustin, may not have the most tele- or photogenic face among the boys, but all he has to do (for me, at least) is to take his shirt off. He's the only one among them who works out; I think 17 is a great age to start working out—all lean muscles, yummy!
* * * * *
Obviously PBB Teens is geared towards making these kids into a new generation of stars after their stint in the house; why else choose showbiz-ready teens? But I think there's a more insidious agenda to PBB Teen—they're out to make pedophiles of us all!
Quick! Click! Click!
FRIENDSTER FOTOSHOOT
When: Saturday, May 13, 2006
Where: David Fabros' studio
6239a Manalac Street
Poblacion, Makati
From EDSA southbound, turn right to Estrella. Turn left at Rockwell Drive, go past Powerplant and Ateneo Law School. Turn right at Palma Street (at the corner is Equitable Bank), then turn left at Manalac Street. Studio is on the 2nd floor of the third building on the left (color white).

And to further entice you guys to JOIN NA, NOW NA NOW NA!, Dave promised he'll let us see the other pics he took of Sam Milby (for Hawk Bags) and—hold your breath, pedophiles—the PBB teens! Yes, Dave was the official photographer for both projects. I wonder if he'll let us see the outtakes….

So, whatcha waitin' for? Tell me ASAP so we can have a head count.

No Guesses?
O sha, eto na ang sagot sa Guess The Theme.

But first I have to say that one cannot really get the theme from just the titles and the names of the artists alone. One must hear the songs mentioned.

So anyway, the theme is Originals and the Songs Which Sampled Them. Thus, "Hung Up" sampled ABBA's song, while in reverse, Madonna's "Material Girl" was sampled by Tamperer. Destiny Child's "Bootylicious" guitar intro was sampled from Stevie Nick's song, while The Pussycat Doll's latest samples repeatedly a snatch from ELO's "Evil Woman." And the Atomic Kittens sampled a portion of the chorus of ELO's "Last Train To London." And the chorus of Blur's "Girls and Boys" was sampled in Piano Man's "Blurred".

Best if you download the songs you don't know and listen to them side by side with the originals. Nakakatuwa.

Tuesday, April 25, 2006
Guess The Theme
I just recently rediscovered the joys of putting my iPod on shuffle mode. There's a thrill in hearing Tom Petty & The Heartbreakers' "You Got Lucky" followed by "Lucky Guy" by The Cascades—purely by chance.

Because of that I decided to make a new playlist with the following songs:

Hung Up by Madonna
Gimme! Gimme! Gimme! (A Man After Midnight) by ABBA
Material Girl by Madonna
If You Buy This Record Your Life Will Be Better by Tamperer
Bootylicious by Destiny's Child
Edge Of Seventeen by Stevie Nicks
Beep by The Pussycat Dolls
Evil Woman by Electric Light Orchestra
Be With You by Atomic Kittens
Last Train To London by Electric Light Orchestra
Boys & Girls by Blur
Blurred by Piano Man

The theme is obvious but we'll see if you get it anyway.

Hooking Up
Why do we hook up with a partner? What's the impetus behind this need?

I can understand why man and woman would hook up for procreation, for extending the family line, for economic security, for survival of the race. That's simple biology and economy. You can also add the romance part for the Mills and Boon crowd; for the more jaded, replace romance with companionship.

But what about us gays? Take out the procreation part and you're left with economics and romance. Given that gay marriage isn't allowed here in the Philippines, the only economic gain you get from partnering is the hope that there's someone willing to help you out during times of financial need—that is, if you two are on good terms. As for romance, well, it fades over time.

So you're left with companionship. Of course, companionship with a fellow human being is infinitely more complex than with a pet, so I suppose there's value to that. For those who are blessed with singleness, there's always family and friends. So I guess the really miserable ones are single people with family problems and a severe lack of close friends. Maybe they're the ones who end up as stalkers and obscene phone callers. Or they become paparazzi.

Or perhaps they just blog their life away, pretending they have a show online.

Now if you'll excuse me, I have to skin some kittens alive.

PBB Teen Edition
Okay, so I'm not really a big fan of Pinoy Big Brother even while I was still working for the network. I admit I'd follow what's happening from time to time, especially when it is about my favorite housemates (usually the cute guys, like Sam or Zanjoe). But for me it's okay to miss an episode or two or five.
However, have you seen the current housemates in PBB Teen Edition?
My gulay!
The caster must have been someone from the Bel Ami Boys studio! Twinks
evuuur!
Except for this curly-haired FilAm guy who looks like Boy2 Quizon (first cousin of Vandolph, I think), I heart all the houseboys! What's funny, there's this guy who's the comedian of the group—and he looks and acts like Vandolph! Put him and curly FilAm guy beside one another, and you have PBB "Home Along Da Riles" Edition.
Right now I heart the nerdy mathematician from Ateneo, the valedictorian-slash-cook with the killer dimples (they're deeper than the Marianas Trench), and the cadet officer from San Agustin who I think is the only one among the boys who works out.
I also love the new interior design of the house.
Unfortunately I don't have pictures yet of the cute boys of PBB Teen Edition
(dedma na sa housegirls, care ko sa kanila).
Will a
mariposa
alight on one of them, giving him an impetus to come out? Watch PBB Teen Edition and find out!
Sunday, April 23, 2006
Of Balls And Crispers
Sometimes life throws you curved balls; the only thing you can do is try to fondle them. Same goes with curved dicks.

Last week work was hell for me. I was so looking forward to busting out Friday evening just to let off some steam. Unfortunately Thursday evening I only slept 4 hours, and by Friday 8:30pm we were still finishing up work. So I ended up going home instead to sleep.

Upon waking up Saturday morning I said to myself, "Tonight I'm gonna party like it's 1999." (How very Prince; how very dated.) And I had the whole day planned: go buy rice cooker (don't ask), recording at 1pm (still work-related), gym, and then go to Starbucks in Greenbelt so I can go on-line. Then dinner and maybe watch a movie.

After the gym that's when my plans were derailed. Still, it was a happy kind of derailment. Hmmm, maybe giddy even. No, I didn't get to fondle anything curved, but that's fine.

Hooray for curved balls, chance encounters and chicken crispers at Chili's.

* * * * *

Speaking of Chili's Greenbelt 1—I used to frequent that place when I was Makati-based before. My all-time favorite was chicken crispers.

When I started working in Quezon City the Chili's branch along Tomas Morato became my go-to place for chicken crispers. I rarely visited the Greenbelt branch anymore.

Cut to six years later. Last week I decided to have dinner at the Greenbelt branch. The waitress ushering me to my seat said, "Your server will be __________" and pointed to the male waiter who came up beside her. The guy was a little older than the other waiters in the place; in fact, his face was vaguely familiar in an I'm-not-sure-but-maybe-I-saw-him-here-before-but-never-really-noticed kind of way. He then said, "Ay, si sir, chicken crispers ang order niyan!"

Ganoon?!

Phillip's theory is that the waiter has a crush on me; I think he has a crush on my tip. Leigh says I'm that memorable. Duh. It's not me, it's my predictability.

Then last night I again had dinner at Chili's. Another waiter, this time younger and whose face isn't familiar to me at all, said to me upon entering, "Welcome back, sir!" and smiled like he knew me before. I had to do a double take and forcibly plaster a smile on my face before replying, "Thanks."

What's with these waiters at this particular Chili's branch, huh? Hmmm. Maybe instead of Bed I should just spend Saturday evenings at Chili's Greenbelt!

(Then again, they don't want me, they just want my money. Sigh.)

Wednesday, April 19, 2006
Freeze Frame
This is my workspace. That's my temporary laptop—they're getting me an iBook because our creatives are done in Macs.
From my window one can see Makati Med.
From afar is our building. This was taken from a block away at De La Costa Street.
The basement parking at our building—perfect location for murder and chase scenes.
Makati by night.
That's me in the corner, that's me in the spotlight….
Last night as I parked in the garage I glanced at my speedometer and saw the number of kilometers Orlando has traveled so far. Oooh!
Tuesday, April 18, 2006
Foot-Powder-In-Mouth
Don't you just hate it when you say something totally dorky then realize it only towards the end of your statement, making it almost impossible to cut off or take back? Yesterday at the gym I was looking for the foot powder when I noticed the guy beside me was using it. So while waiting for him to finish I decided to dry my hair first. When I looked up the powder was on the bench beside him. I got it, and as he looked up I asked, "Are you done with this?" Of course as I was saying the word "with" I glanced down at his feet and saw he was wearing shoes already. He was kind enough to just smile and reply, "Yes, I'm done."

Duh me. Thank god he wasn't cute.

Sunday, April 16, 2006
More Test Results
As I was walking back to the office one evening, I bumped into a former officemate of mine. He's gay, so after much animated talk and much more gossip, I let him take the gay Rorschach test: Day away ang Mancom today.

He read "day" as "inday". But he didn't read "away" as "to fight". Instead he misread it as "ayaw" ("to not like"). So his reading was, "Inday, (we) don't like the Mancom today."

So I told him: "Bakla ka na, dyslexic pa, gaga!"

I tell you, this test is so much fun, it's criminal.

Cover Your Ears
AAAAAAAAAARGH!!! FUCK! SHIT! FUCKING SHIT! GODDAMN FUCKING SHIT! AAAAAAAAAARRRGH! DAMMIT! DAMMIT! LECHE! FUCK! FUCK! FUCK! FUCKING DAMMIT SHIT! SHIT! SHIT! DOUBLE SHIT! TRIPLE SHIT! QUADRUPLE SHIT! GOOGLEPLEX SHIT! AAAAAAAAAAAAAAAAAAAAAAAAA!

I witnessed two biological females—one was a pixie Winona Ryder-like girl, the other was Korean, very Sandara Parks—going at it with gusto in the middle of all the faggots in Bed. First Ms. Winona did her best Showgirls impersonation on stage; then Ms. Sandara released her inner Sharon Stone and started seducing any and everybody in sight. Then both of them did their lascivious lesbian act on the dance floor but that's not why I'm screaming.

One of Cosmo Philippines' top bachelors danced with me, draped his arms over my shoulders, looked me in the eye and rubbed himself on me. And he was so cute doing it. And another one got a wee bit inggit because of that. But that's sooo not the reason why I'm screaming. In fact, that incident is almost dismissible.

DAMN! DAMN! FUCKING DAMN! FUCKING SHIT DAMN SHIT! LECHE! LECHE KA! LECHE FLAN! LECHE DE DULCE! AH BASTA LECHE! McTWERP! FUCKING McTWERP! GODDAMN FUCKING McTWERPY TWERP TWERP! CHIRPY CHIRP CHIRP MEETS McTWERPY TWERP TWERP. I HATE IT! I FUCKING HATE IT! AAAAAAAAAAAAAAAAAAAAAAAAAARGH!

I use to hate bloggers who just rant needlessly in their blogs.

Not anymore.

AAAAAAAAAAAAAAAAAAAAAAAAAAAAAAAAAAAAA!!!!
LECHE! LECHE! WHY?! OH WHY?! WHAT'S WRONG WITH ME?

I was screaming myself hoarse inside Orlando on my way home. My throat still hurts because of that. And my cheeks are still smarting from the slaps.

FUUUUUUUUUUUUUUUUUUUUUUUUUUUUUUCK. SHIT.

(Sigh.)

I think I'm gonna crawl under a rock…

…and eat some worms…

…and smash someone's head with it.

* * * * * * * * * *

I wrote the above entry at around six on Easter Sunday morning. I'm now posting it Sunday evening. Looking back I still feel like knocking myself on the head. But not as hard anymore.

Don't ask me what that was all about. Shhh! Shut up. Be a good boy. Go, get outta here.

* * * * * * * * * *

I woke up with a dull feeling at around 9am and tried going back to sleep. I ended up speed-rereading Leigh's copy of "If You Knew Me Will You Still Like Me?" I was skipping chunks of words until about chapter three before tossing the book away. I went out to the living room to read the Sunday paper instead.

Thank god the whole of Easter Sunday was spent with highly distracting people—my family. We celebrated my sister's birthday in advance because she'll be in Bacolod on her special day. We ate at A Taste of L.A. in Quezon City. I just looove their ultra thin crust pizzas and their grilled boneless chicken! I brought my mom, aunt, brother and sister there once before for Sunday lunch, and they loved everything we ordered on the menu (you know how it is with families, when everyone gets to taste the others' orders, especially when trying out a new place?) so my sister decided to hold her birthday lunch there. ATOLA at lunch time on a Sunday is always full—of empty chairs. We were the only ones there until about 1pm, when another family of four entered the place. When we were leaving at past 2, another group entered. Otherwise, we had the whole place mostly to ourselves.

Afternoon was spent at Fitness in Robinson's Metro East. There I spotted a guy who I always see in F. Well, not really always, but I've seen him more than thrice, which by F standards should make us "really close" but NO. He never acknowledges me whether there or even at the gym—in fact he makes it a point to avoid my eyes. Ah ganoon, ha? Rejection ka jan, ha? Leche ka.

So now I'm at Starbucks Katipunan again, finishing up on my requirement needed first thing tomorrow morning. There are no cute boys around again. Thank god for small mercies and work distractions.

Black Saturday Night
My gulay, it is Black Saturday and I'm in Starbucks Katipunan working on a script for a Monday morning deadline. Actually I was also here yesterday, Good Friday, working on the said script. Thank god for Starbucks and Seattle's Best. They're open the whole of Holy Week, and they have wi-fi services.

There are no cute guys around, despite being a stone's throw away from Ateneo and surrounded by residential areas such as Loyola Heights, Xavierville, and Loyola Grand Villas. Is everyone cute out on the beach? Nah, most probably they're hanging out at Shakey's and Tia Maria's Cantina, downing bottles of beer and glasses of zombies.

Last night I dropped by F, where there were a group of guys whom I suspect are call center kids. Too bad for them they have work and can't go to Puerto Galera aka Sodom and Gomorrah. So instead they go to F. Funny thing is the place isn't really jumping with customers—it's like any other weekday night. Maybe even a little less crowded, given that it's a weekend. I swear, these 24-hr service industries are changing the social landscape and habits of the Metro.

Meanwhile our annual road trip around Laguna lake was cancelled due to my Tita from Bohol who's staying with us during the Holy Week. Too bad—I was looking forward to taking lots and lots of road trip pictures. I've been having fun playing with iPhoto and iDVD. I've already burned two DVDs of our various family pictures in slideshows (with matching music) for my brother and his family (my nephew and niece have lots of pictures) and for my sister and her husband (they rarely pass by the house anymore, so they'd love copies of the pics). With iDVD and iMovie I'm suddenly itching to get a digital video camera! Argh! Ika nga ni Hannibal Lecter, you covet what you often see. And nowadays whenever I go to the mall the first thing I notice are all those digital cameras on display. Noooo! Must. Resist. Temptation. I'll just have to be contented with making slideshows of our pictures in the meantime.

This is actually one of my most sedate Holy Weeks ever. Sedate daw o?! Actually it is. Even my F experience was kinda sedate, with one guy just wanting to kiss and fondle the whole time. I thought that was because he was older than me—but it turned out he was just 38 years old. Well, well, well. But then he explained that he's currently seeing a married man with two kids, and he was feeling down cuz his boyfriend chose to spend Holy Week with his family. Heller?!

Oh well, time to log off now and head for Bed.

Tuesday, April 11, 2006
Holy Weak In The Knees
Every year more and more establishments remain open during Holy Week. I remember when I was a kid I hated Holy Week because we couldn't play nor raise our voices. Nothing was on TV. And the only establishments open during Holy Week were churches. While Jesus suffered on the cross we suffered boredom at home. When Jesus died, so did the whole metropolis.

Good thing times have changed. Yesterday I received an advisory from F via SMS announcing that they're open the whole of Holy Week. Or maybe they should call it Unholy Week. How about Hole-y Week? (Okay, that's enough.) Of course this raises such phrases as "making like bunnies," "kneel down and bow your head" and "egg hunts" to a whole new level of cliché.

It's our bisita-iglesia. It's our stations of the cross.

Monday, April 10, 2006
Eureka
Hmmm. On my third week at work I found out that in the bathrooms there are ambient lights that aren't connected to the motion detectors, which means they stay on even when the main lights switch off when there's no movement detected.

Either I was had, or I was a recipient of story embellishment for comedic purposes. Or there's also a manual switch for the ambient lights that are turned off during off-hours.

I really should go back to work.

Thursday, April 06, 2006
Lost In Translation
Yesterday I asked Leigh via SMS: Nasa opis ka na ba? (Are you at the office already?)

Her exact reply: Day away ang mancom today! We're in Rockwell!

The first thing that entered my mind was a panicked, Oh my god why is our Mancom fighting? This was immediately followed by a more puzzled, And why the hell are they fighting over at Rockwell, of all places?

As I was composing a reply to Leigh, it suddenly hit me: The Mancom is spending the day away from the office; their meeting is at Rockwell. I mistook her text message to mean: 'Day (short for "Inday," a term of endearment among gays), away ("to fight") ang mancom today.

I went up to the only other openly out gay person in the agency and asked him, "Can you read Leigh's text message?" He read the first sentence out loud slowly; he didn't bother with the second sentence. Instead he gave me a worried look and asked, "Why are the Mancom fighting?"

"Bading ka nga," I said.

Then I went up to a baklang babae in the office and asked her to read it. "Day (as in "Inday"), away ang Mancom today," she read out loud then looked at me. "Yes, I know the Mancom will be away today."

"You are truly a baklang babae," I told her. She misread "day" but got the "away" right.

Lastly I went up to an art director and asked him to read the text message. He read it as "The Mancom is spending the day away from the office." He looked at me and asked, "So?"

"You're really straight," I said.

Then I told him about the text message and the different readings I got from different people. He was amazed. He asked, "Have you tried it with other people in the office and see how they read the message? Maybe we can out someone."

So now I have the Rorschach Test to Determine If One's Gay or Not, thanks to Leigh's text.

Tuesday, April 04, 2006
Double Take
Yesterday afternoon after lunch, while Leigh went to the 7-11 to buy her daily fix of Coke Light, I went to the photo shop to pick up the pictures I had them developed this morning. On my way up I bumped into a former classmate of my older brother. After the obligatory handshake and hellos I told him I worked on the 20th floor of the building.

"Yes, I know," he said. "I follow your online journal."

I did an internal double take. "Okay, right. See you!"

"Bye!" he waved as he went his way.

The moment I turned away from him I muttered under my breath, "Oh. My. God."

You see I've been out to everyone except my immediate family. My policy regarding my family and relatives is simple: if they don't ask, I won't volunteer; but if they ask, I won't lie. So far no one's been asking.

So JA, if you're reading this, well, you know what to do, okay?

Monday, April 03, 2006
This Building Is Guarded And Alarmed!
RCBC Plaza is one of the busiest buildings in Makati. It houses a museum, a theater, the UN offices, several embassies, food courts on the 3rd and 4th floors, the Fitness First Plus gym, and a gazillion offices spread out over twin towers rising more than 29 stories tall. Because of this it is heavily guarded, and they take their safety and security measures seriously.

Last Friday we had a fire drill scheduled at 3pm. A fire drill for that kind of building takes around 2 hours to complete. It's a major hassle so most tenants have devised ways of being out of the building when it happens. But at 10am as I was dressing up after working out at the gym, I heard fire sirens outside. "They must have pushed it earlier so as to keep the building fire marshals on their toes," I thought to myself.

By lunch time we were allowed back into our office. Only then did we find out that there was a real fire in basement 7 that morning. But thanks to the scheduled drill, people were very calm as they went down the building, oblivious to a real danger down below.

By noontime they announced via email that they were canceling the scheduled fire drill that afternoon.

As Leigh put it: We're the only building that cancelled its fire drill because of a fire!