Thursday, April 27, 2006
'Wag Po, Koya, 'wag Po!
So Dave is the official photographer for the PBB Teens publicity shoot. And speaking of those teens, here are the boiz:
Gerald is, I believe, the one people find most handsome. I too would agree about his looks. But his attitude turned me off; he
knows
he's good-looking.
* * * * *
Aldred, on the other hand, is blessed with dimples too deep to fathom. He's got the humble disposition of someone coming from a not-so-privileged background. If he knows he's cute, he doesn't wear this knowledge on his sleeve. And he loves to cook! Still, it really boils down to his killer dimples.
* * * * *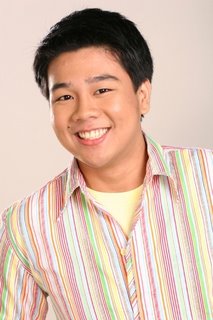 Speaking of dimples, the comedian of the group is the younger brother of Dimples Romana. Bam is cute because he's funny—and because he uses humor to mask his angst. He also looks like Vandolph after a visit to Vikki Belo.
* * * * *
And speaking of Vandolph, Matt looks like a dead-ringer for Boy2 Quizon. Put him and Bam together and you have "Home Along Da Riles"!
* * * * *
The Atenean Mikee is also cute in a nerdy way. Actually his glasses don't flatter him at all; you should see him without glasses. It's also endearing the way his mouth goes all crooked when he smiles. He reminds me of my cuter classmates in school. Haaay!
* * * * *
Fred, the cadet officer from San Agustin, may not have the most tele- or photogenic face among the boys, but all he has to do (for me, at least) is to take his shirt off. He's the only one among them who works out; I think 17 is a great age to start working out—all lean muscles, yummy!
* * * * *
Obviously PBB Teens is geared towards making these kids into a new generation of stars after their stint in the house; why else choose showbiz-ready teens? But I think there's a more insidious agenda to PBB Teen—they're out to make pedophiles of us all!
Comments:
Uy I read somewhere na sinabi daw nung Gerald na the reason why he joined PBB is to come out like Rustom hahahaha. Is that true? Hahahahaha
XP ulit
Post a Comment
<< Home