Thursday, October 05, 2006
Six Degrees Of Fahrenheit
This morning on the radio they were talking about how old scents are making a comeback. Old as in our parents' generation old—scents like Old Spice and Brute by Faberge. Which reminded me of an old Eddie Murphy stand-up routine about how ironically contrasting the two names "Brute" and "Faberge" were—like a very dark, very muscular but very effeminate gay bouncer.
But that's not really my topic.
Who among you have at one time or another bought, used, or wanted to buy or use Fahrenheit? Go on, come out of your perfumed closet and admit it. There was a time when it seemed like every other gay man was wearing Fahrenheit. It became the token Eau de Homo. I remember stalking the dark halls of Club Bath and every corner had a lingering whiff of that Christian Dior scent.
It was a scent that grabbed you on first whiff—it was quite distinctive and identifiable but not in an off-putting way. It's as if it automatically branded the wearer but minus the baggage of older scents ("smells like my old man") or the more citrus-y and floral scents ("smells so girlie"). In fact it seems to hover somewhere in the middle of masculine and feminine, which I guess is why a lot of gay men preferred this scent.
Pretty soon what connected gay men was the scent of Fahrenheit. It got to a point that whenever I detected that scent in public I'd search for the source and almost always the culprit had plucked eyebrows or was fastidiously fashionable. The scent of Fahrenheit became a better gaydar than gaydar itself. And maybe that's why it disappeared almost overnight. What started out as gaydom's subtle badge of honor instead morphed into a loud, screaming billboard that could come crashing down given a wrong gust of wind.
With this movement for bringing back the scents of old, maybe Fahrenheit will return along with Cool Water, Drakkar Noir and Colors by Benetton. Is that a comeback I smell in the air?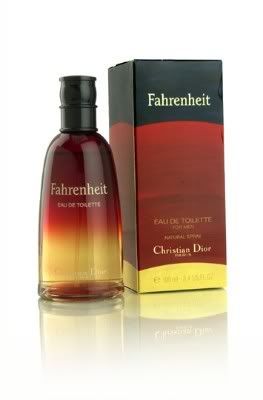 Comments:
I didn't quite like Farenheight... but yeah I get what you're saying that most gay guys wear that scent...
We're not big fans of perfumes, so when Norm and I decided to use the SM gift cheques we got as gifts, we thought of getting ourselves a bottle of perfume. We were bewildered by such a huge selection, but we steered away from the now jologs CK, Versace and Davidoff (Cool Water is still there, along with Drakkar Noir and Carolina Herrera), and narrowed it down to what we both liked: Issey Miyake (L'eau D'Issey), Kenneth Cole (Reaction) and Hugo Boss (forgot the name, it's their new one).
Kenneth Cole (Reaction) won. It's very masculine urban classy (and definitely not associated with gays). ;-)
Post a Comment
<< Home