Wednesday, October 18, 2006
A Killer Album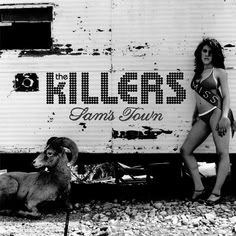 Move over Paris, The Killers have arrived from
Sam's Town
, and they come with guitars, drums and synthesizers a-blazing.
It's rare nowadays for me to listen—much more like—an album from beginning to end. Thanks to what I call the Compilations Syndrome, which in turn begat the Song Shuffle Syndrome, my ears these days get easily bored if I listen to the same artist with basically the same sound for several songs in a row (usually I last until the 4th or 5th song before tuning out). That is, unless the artist deliberately switches genres from song to song; however, rare is the artist who can pull off that kind of trick successfully without coming up with a stinker or three.
However I was shocked when, song after song, the sophomore album by The Killers kept me listening at full attention. First it's their sound—I found myself bobbing my head to their more rock-out-loud numbers. After reading some reviews both on-line and off, I realized why I took to this album immediately. Yes, The Killers here sound like they're channeling other acts—specifically from the 80s. One moment I'm hearing U2 circa "The Joshua Tree" complete with Bono's evangelical singing and the Edge-y jingle-jangle of guitars; the next moment The Killers are reaching for the big, grand sound of early Big Country and Simple Minds circa "Sparkle In The Rain". Then there are snatches of Talking Heads and attempts at Bruce Springsteen, including entitling a song "The River Is Wild." One minute lead singer Brandon Flowers sounds like he's channeling The Cure's Robert Smith then the next he's The Car's Ric Ocasek reaching for the high notes. But instead of turning me off, here's a case where familiarity breeds content.
(Funny thing though, most reviewers keep mentioning that The Killers here sound like they're going the Bon Jovi route, but I just cannot hear "Bed Of Roses," "You Give Love A Bad Name," "Bad Medicine" and "I'll Be There For You" amongst the songs. I guess it goes to show how unfamiliar I am with the New Jersey stadium rockers.)
Then snatches of the lyrics just leaped out to me on first and second hearing:
You sit there in your heartache,
waiting on some beautiful boy to
to save you from your old ways.
You play forgiveness.
Watch it now—here he comes!
He doesn't look a thing like Jesus,
but he talks like a gentleman,
like you imagined when you were young.
from "When You Were Young"
I said my heart, it don't beat,
it don't beat the way it used to
and my eyes don't recognize you no more.
And my lips, they don't kiss,
they don't kiss the way they used to,
and my eyes don't recognize you no more.
For reasons unknown
from "For Reasons Unknown"
Argh! I hate it. Times like these lyrics like those aren't what I need, especially these days when I'm feeling particularly weird. You know that gray area of unrequited, hovering between holding on and moving on? Ugh. Whenever I see him, I get all funny-sad inside. It'll take me some time more, I guess. But until I get him finally out of my system, I'll quietly suffer.
Woah. There. I've said it.
Now to move on; meanwhile, I'll just bury myself in this killer of an album.
Stand-out tracks:
"When You Were Young"
"For Reasons Unknown"
"Read My Mind"
"Uncle Jonny"