Monday, May 08, 2006
Food Trip
My sister, brother and I decided to go on a food trip to Chinatown on Sunday. So at 10:30am we drove to Ongpin Street, parked the car and started walking around.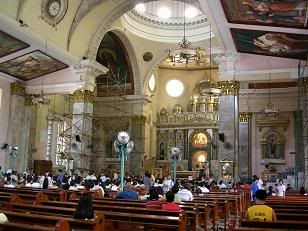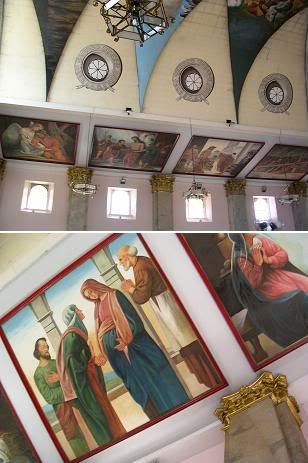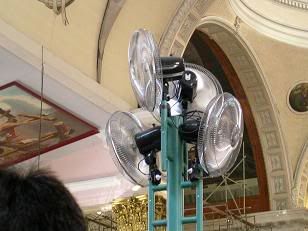 Our first stop was the Binondo Church. I found the huge paintings on the ceiling interesting. But what really caught my eye were four-sided fans along the center aisle.
* * * * *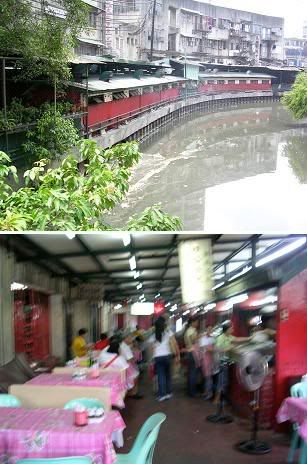 Lunch time at the estero: beside this ugly-looking, foul-smelling small river is a row of
turo-turo
restaurants that serve delicious food made from the freshest ingredients.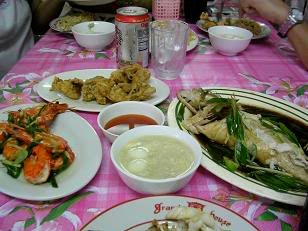 We had crispy chicken, steamed prawns, steamed
lapu-lapu
shanghai rice and nido soup. Delicious!
* * * * *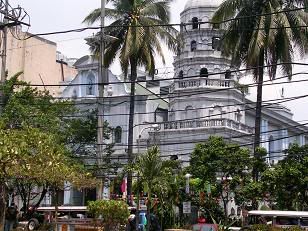 Next stop, Sta. Ana church.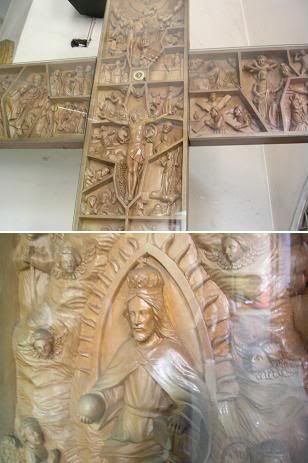 Near the entrance is an interesting cross that's engraved with scenes from the four mysteries of the rosary.
* * * * *
At Carriedo, I saw this sign for Hotel Paradis.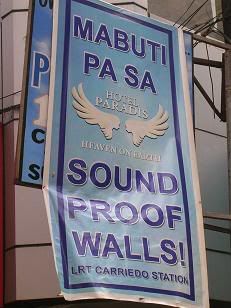 * * * * *
At Quiapo Church plaza...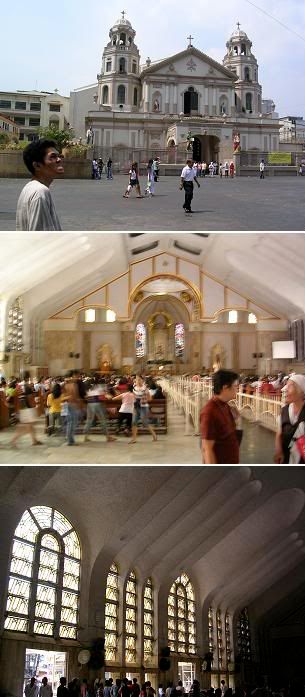 I'm actually happy that the plaza was cleaned up, but I'm saddened by the renovation inside the church. I don't particularly like the ceiling—it's too
madumihin
.
* * * * *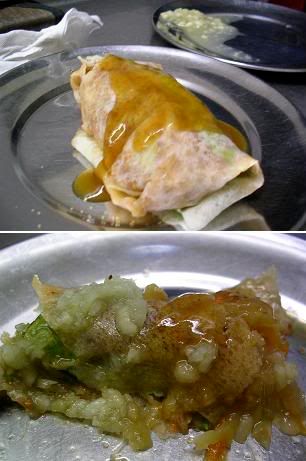 Near the Quiapo church is Globe café where they serve fresh lumpia. They have this crushed garlic that adds zing and punch in your fresh lumpia. The lumpia doesn't look appetizing, but trust me it's delicious.
* * * * *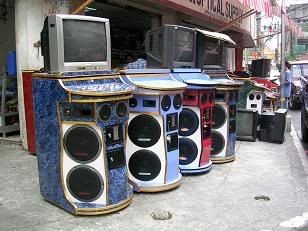 At a street near Carriedo on our way back to the car we passed by the electronics street where we saw all these videoke machines waiting to be sold—so they can wreck havoc on quiet neighborhoods in the future.
* * * * *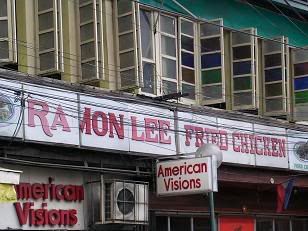 We then went to Ramon Lee where we took out a half-order of their specialty—fried chicken. Their chicken doesn't actually taste fried but more grilled, like Andok's lechon manok. Mmm! Since we were still full we decided that Ramon Lee's chicken would be dinner.
* * * * *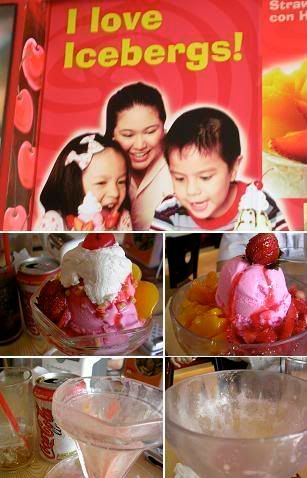 After walking around the streets on a very hot Sunday afternoon, we decided we needed to cool down. So it was goodbye Ongpin and on to Harbor View beside CCP where we had ice cream in Icebergs.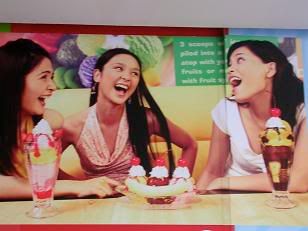 I really found the picture above funny and irritating at the same time. There is absolutely no interaction between the female talents and the products. Oh sure, the products were shot nicely. But how come there are no spoons in the picture? You can imagine what the girls are laughing about:
"How are we going to eat our ice cream? Hihihi!"
"Wth our hands, hihihi!"
"I didn't know ice cream was kamayan pala, ahahaha!"
* * * * *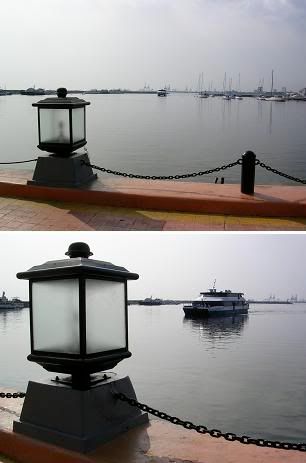 Afterwards we checked out the Yacht Club area just outside Harbor View, where we were lucky enough to witness the arrival of the ferry from Corregidor.
This food trip was quite a success. We plan to do it again with our mom when she comes back from Bohol.
Comments:
Tried Nido soup last year from like www.geocities.jp/hongkong_bird_nest/index_e.htm . Tastes really good... yeah, I thought it was gross at first, but wow, you won't regret it.
Post a Comment
<< Home